When buying cream chargers for wholesale purposes, the goal is usually to get the best price available. You might start browsing the internet, scanning through several websites, opening multiple tabs, thinking: how can I get the best quality product for the best price?
Well, look no further, because we have the answer for you right here. We conducted a thorough comparison of the cream chargers wholesale market in 2020 to give you all the relevant information you need in one place. Read on and discover the latest products on the market.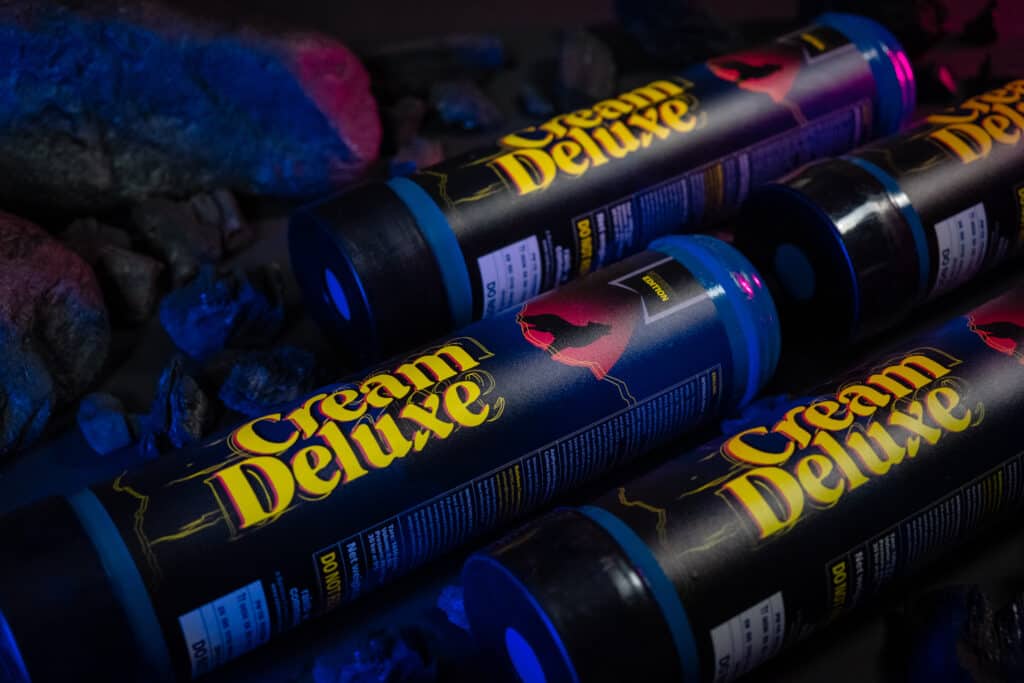 Cream Deluxe Cream Chargers
Born enthusiasts of exquisite cocktails and creamy beverages Cream Deluxe was born when a group of young entrepreneurs saw the endless creative potential of the crafty cream charger and -dispenser duo.
Encouraged by the rise of creative ambitions making their mark within the cocktail industry, they decided to push a new form of bartending; one centred around the art of rapid infusion.
Shop Cream Deluxe for cream chargers wholesale to boost your next cocktail venture.
MOSA Cream Chargers
MOSA is based in the Huawei Science Park in Taiwan and spans across a staggering 140,000 square-meter area. Having innovated products since their opening in 1988, they have been pushing the status-quo for disposable compressed gas cartridges ever since. From the outset, they reserved large amounts of money for research and development in the tiny 8 gram steel cylinders that we now know as cream chargers.
MOSA Cream Chargers in Bulk
MOSA has continued to invest in technology to improve the cream chargers and retain the perfect product-to-market fit. But, more specifically, it's the technology to fill the cylinders that has been essential to their success. The development of automated filling machines has allowed for more flexibility and permits them to produce cream chargers in bulk.
MOSA Geographical Benefits
On track to becoming a leading brand for large-scale production both locally and internationally, MOSA will continue to succeed because of the company's favourable geographical location. Next to improving its professional skillset, MOSA aims to give back to society and is working towards making the world a better place.
Smartwhip Cream Chargers
Smartwhip has been around since the summer of 2019 and has disrupted the cream charger market ever since. The revolutionary whipped cream charger that consists of 580 grams of nitrous oxide intends to bring more ease and efficiency to the professional kitchen environment, making the traditional whisk and manual piping bag redundant.
Unlike traditional cream chargers that use single-use canisters, the Smartwhip system operates as a high-production cylinder containing 78 times as much nitrous oxide than traditionally available. A pressure regulator allows chefs to adjust the working pressure according to their needs, allowing for complete control and precision.
Smartwhip Canister
Smartwhip canisters don't come with a pressure regulator by default (which allow for precise portion control and for one to adjust the working pressure). Though the tool avoids excess gas wastage, it does come at a price; while the cost of the pressure regulator cannot be found directly on the website, it is estimated to fall between €30 and €50.
Smartwhip Tanks
The Smartwhip cylinder filled with 580 grams of N2O is pressure tested at 165 bar. The gas is officially labelled with the E942 food grade and conforms to all European laws and regulations.
Fast Gas
Fast Gas started in 2018 with a small team of five people with big ambitions to take over the Dutch nitrous oxide market. They said to have grown to a team of 200+ employees now serving over 40 different countries ranging over three different continents. Ultimately becoming one of the largest worldwide distributors of nitrous oxide.
Fast Gas has a diverse assortment of disposable gas tank products, ranging from Helium to Carbon Dioxide and Nitrous Oxide. The benefits of this may be that these are 100% produced in Europe.
Carbon Dioxide from Fast Gas
Carbon dioxide is the product for creating bubbly drinks, also known as the process of carbonation. The addition of carbon dioxide gas to a drink creates a fizzy mouthfeel and tangy taste. Sodas usually consist of carbonated water, sweetener and natural or artificial flavouring.
Helium from Fast Gas
Fast Gas sells helium gas to consumers in their webshop. Helium is a colorless, odorless gas that is lighter than air. It has the lowest boiling and melting points of all elements and remains a liquid at extremely low temperatures.
Due to its low density, helium is often used in balloons for lift and as an inert gas for shielding sensitive materials during welding or manufacturing processes.
Nitrous Oxide from Fast Gas
Nitrous oxide from Fast Gas is a food-grade gas that is used for catering purposes. Be it in a restaurant or bar – nitrous oxide is oftentimes used in the form of a cream charger. These come in different sizes: where traditionally the smaller 8-gram chargers were common, now the market is taken over by storm by the larger cylinders ranging from 580 grams to 640 grams, and even tanks of 2 kilos.
These cream chargers are then placed inside the cream dispenser's head and screwed onto the thread until they release all of their contents into the cream dispenser. For whipped cream, the nitrous oxide gas contents react with the fats and protein of the cream. The higher the fat content, the denser the liquid and the more pressure it requires to become aerated. Protein is the variable that stabilises the foam, which makes for creating a 'net' around the tiny bubbles of air to keep them from bursting.
Exotic Whip
Exotic Whip was founded in 2018 in the city of Amsterdam with the pursuit of innovating the culinary industry with the highest quality European-made gourmet goods. A new way to experience the power of nitrous oxide. They started exploring the market via their canisters which hold 80 traditional cartridges. Through their design of 640 gram, Exotic Whip holds 15% more contents than similar cylinders on the market.
Exotic Whip 640g Cylinder
Unlike other tanks on the market, the Exotic Whip cylinder looks a bit different and comes across as more heavy because its wider. The middle of the tank has a small little bump, characterizing the Exotic Whip tank and making it easy to recognize.
Exotic Whip and Ibiza
Exotic Whip was inspired by the tropical flavors and beach vibes of Ibiza. They say that their unique flavor drops are intended to enhance your N2O experience even further. Mango and Peach would make you tap into your creativity, simulating warm and sandy beaches reminiscing to Ibiza.
iSi Cream Chargers
iSi cream chargers are among the highest in terms of standards of quality, hygiene and production. The cylinders have a slightly higher volume than other brands, namely 8,4 grams of pure N2O, and each capsule is filled with military precision. Any oil residue is ruled out, and their products conform to HACCP standard.
iSi vs MOSA Cream Chargers
In general, MOSA cream chargers are cheaper than those of iSi and Liss. The iSi cream chargers are tainted light purple and have the batch number printed on the cartridge. They ship from Austria after being coated at their headquarters in Vienna, and it is reported that an EU-certified pharmaceutical manufacturer produces them. The cream chargers can be bought in 10, 24 or 50-piece packs.
iSi Cream Chargers UK
iSi cream chargers are widely sought-after in the UK. There is a high demand for cream chargers there, of which iSi dominates a large part of the market.
The benefit of high-grade silver iSi cream chargers is that each cartridge contains 8.4 grams of pure N2O. Made of high-quality recyclable steel, each cartridge is electronically weighed and comes with a refill warranty.
iSi Cream Charger Recipes
iSi has several culinary recipes on its website. Some of them are quick and easy, but some also require some patience and sophistication. Their recipe page varies from drinks to soups, espumas to sauces, from desserts to decorating tips to rapid infusions and more.
The rapid infusion technique makes use of the whipping siphon traditionally used to make whipped cream. By placing ingredients into a siphon and charging it with N2O, you can have an infused compound within a few minutes. Rapid infusion works because of the pressure from the N2O, which expands the cell walls and allows the liquid to flow through easily.
Alcohols and oils lend themselves well to this as these can easily infiltrate porous ingredients. The infusion time could easily be scaled down to just a few minutes.
Kayser Cream Chargers
Kayser cream chargers have an 0.5-litre capacity and contain 7.5 grams of N2O. The cartridges are made of recyclable steel but are not refillable.
Kayser N2O Cartridges
Kayser has a 5-year warranty for its cream chargers and gas, and the amount of gas in each cartridge is electronically measured. Kayser's production site lies within the Czech Republic.
Kayser Cream Chargers Wholesale
Founded by Herbert Kayser in Vienna in 1952, Kayser has been producing pressurised nitrous oxide cylinders since the late 1950s. Following the death of the company's founder, Kayser experienced a few ups and downs throughout the years until Johannes Conrad Billroth took over the management of the company in 1986. By 2008, they had scaled their production capacity substantially to meet the demands for cream chargers wholesale practices. Nowadays, they consider themselves to be providers of cream chargers, cream whippers, soda chargers and soda siphon systems for wholesale and retail customers.
Hendi Cream Chargers
Hendi was founded in 1934 and has grown to become an international company with offices in the Netherlands, United Kingdom, Austria, Romania, Italy, Poland, Greece and Hong Kong.
Hendi develops, produces, sells and distributes a wide range of kitchen and catering supplies.
Hendi Cream Chargers Wholesale
Hendi cream chargers are compatible with cream dispensers by Liss, Kidde, Kaiser and iSi. They are delivered exclusively through cream charger wholesalers, dealers and catering webshops.